Satellite location got you stumped?


Try the Alabama tree stump enhanced method. They say the bigger the root structure.....
The stronger the signal........(ever wonder who "they" are?)
CEO Elect of Cypress Log Homes
Obi-Wan, You're our only hope!
My Mother, @80 sets the standard here at
Cypress Log Homes
If all mankind were of one opinion, and only one person were of the contrary opinion, mankind would be no more justified in silencing that one person, then he, if he had the power, would be justified in silencing mankind.
-- John Stuart Mill
Freedom Quote:
Want smaller government? Want more personal freedom? Tired of Democrats & Republicans?
There is nothing so awkward as courting a woman whilst she is making sausages.
-- Laurence Sterne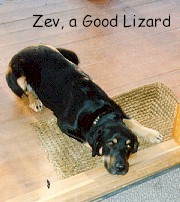 More than a canine, he was a good "Lizard"
The best friend a man could ask for, now he is gone, so hug yours today